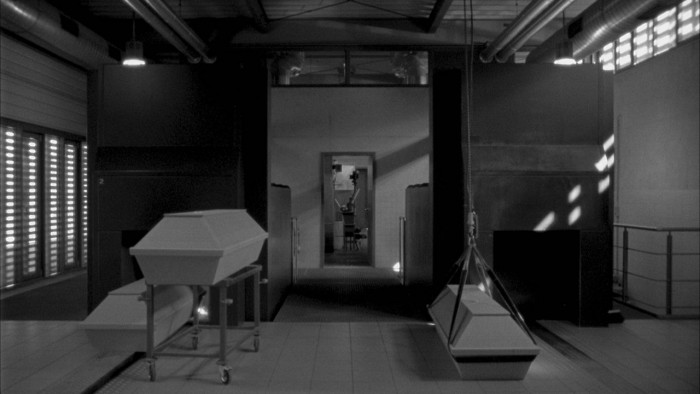 // Director - Editor - Producer
HAUPTFRIEDHOF
2011, DOCUMENTARY - 16mm - S&W - stereo/5.1
DURATION: 62 MIN. - LANGUAGE: GERMAN, SUBTITLE: ENGLISH, FRENCH, ITALIAN
DCP
Nebel. Auf der nahen Schnellstraße fahren Lastwagen.
Gehwege zeichnen sich als dunkle Linien in den Schnee.
Die Friedhofsmauer. Grabsteine. Kahle Äste. Ein Labyrinth.
Ein Mann hackt Eis vom Asphalt.
In der Ferne singen Fußballfans.
Holz. Stein. Asche. Erde.
Haut. Haar. Schnee. Metall.
49 Einstellungen fügen sich in 62 Minuten zu einer Bild- und Tonkomposition zusammen.
Zu einer Erzählung, die sich dem Rhythmus des Tageslichts und der Jahreszeiten anpasst,
in der der Ort in seiner Stille und Lautheit, in seiner Urtümlichkeit und Anderwelt porträtiert wird.
Die Zeit breitet sich aus wie eine zähe Masse.
Eine spezielle Erwähnung möchten wir an den Film "Hauptfriedhof"
von Melanie Jilg vergeben, für seinen mutigen und beinahe kompromisslosen
Zugang zum Dokumentarfilm. Melanie Jilg gewinnt unsere Aufmerksamkeit
durch ihre Kreativität und die einzigartige Betrachtung des Dokumentarfilms als Kunstform.
Die Stärke des Films liegt in den nahezu kompromisslosen Betrachtungen
und sehr langen Kameraeinstellungen, die forensische Qualität aufweisen.
Dieser Film lässt eine deutliche persönliche Handschrift erkennen.
Jurybegründung, Crossing Europe Linz 2012
CEMETERY
Mist. On the nearby freeway passing trucks.
Pathways chart dark lines in the snow.
The cemetery wall. Grave stones. Bare branches. A maze.
A man chips the ice from the asphalt.
In the distance the chant of football fans.
Wood. Stone. Ash. Earth.
Skin. Hair. Snow. Metal.
49 camera shots merge into 62 minutes of visual and acoustic composition.
A narrative that adjusts to the rhythm of daylight and seasons,
in which the location is portrayed in its tranquillity and its loudness,
its nativeness and otherwordlyness.
Time stretches out like a viscous mass.
We would like to give a special mention to the film "Cemetery"
by Melanie Jilg for its brave und almoste uncompromising approach
to documentary filmmaking. Melanie Jilg has captured our attention
through her creativity and unique contemplation of ducumentary as an artform.
The film`s strength lies in almost uncompromising observations and lingering long shot
sequences which have a forensic quality.
In this film she shows a strong personal signature.
Jurystatment, Crossing Europe Linz 2012
DIRECTOR / EDITOR: MELANIE JILG
CINEMATOGRAPHER: FLORIAN HAAG
SOUND: CHRISTINE WÖLFLE
SOUND DESIGN: CORNELIA BÖHM
FESTIVALS
2012 Crossing Europe, Linz (AT)
2012 Visions du Réel Doc Outlook International Market, Nyon (CH)
AWARD
2012 Crossing Europe Special Mention FEDEORA /Panorama Documentary section directors under 33
>
Filmkritik Dean Kotiga