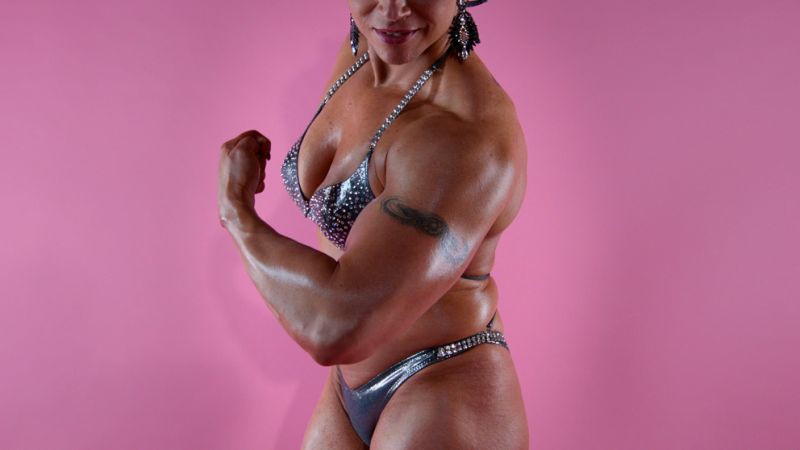 // Cinematographer
SUPERNATURE
2015 - VIDEOART - COLOUR - STEREO
DURATION: 9 Min. (loop)
The staged video work ,Supernature' is an audiovisual analysis of the correlation between patriarchal structures and the media representation of female power.
Protagonists, toys, and cosmetics transform filmic staged to unreal creatures:
a female bodybuilder adorns herself with a pink veil, Demons running through the woods, a blonde girl is playing with a glittering ball, manicured hands arrange cosmetic products as an occult ritual, strands of hair fluttering in the wind. In abstract and concrete tangible movements over textures, skin and objects: people and material falling seamlessly into one another as consumer products.
Symbolic figures are artistically reformulated and removed from their historical and ritual context of meaning. By that the artist gives the symbols a new identity to expose mechanisms of patriarchal structures, power and control. The imagery is alienated by slow motion, producing a dream-like and sacred atmosphere.This impression is intensified by an unsettling soundtrack starring drops, breaking wood and squeaks.
The different lengths of the video and audio track played in loop continuously produce ever new and unpredictable constellations which open up a multitude of possible associations.
DIRECTOR: LOTTE MERET EFFINGER
CINEMATOGRAPHER: MELANIE JILG
EDITOR: THOMAS KÜHN
SOUND DESIGN: FLORIAN MAYER
FESTIVALS / EXIBITIONS / COLLECTIONS (selection)
2015 Jungs, hier kommt der Masterplan, Kunsthalle Basel
2015 Channels, Australian Centre for The Moving Image, Melbourne
2015 International Youth Art Biennale, Jinling Art Museum, Nanjing
2015 Übermorgenkünstler, Staatliche Kunsthalle, Baden-Baden
2015 Art Nova 100, National Agriculture Exhibition Center, Bejing
2015 Arte Laguna Prize, Arsenale, Venice
2015 Filmwinter Expanded Media , Kunstbezirk, Stuttgart
2015 Nanjing Youth Festival, Jinling Art Museum, Nanjing
2015 Paradise Cinema, Lake Mountain
2015 Channels, Australian Centre for The Moving Image, Melbourne
2015 Backup, Kurzfilmfestival, Weimar
2015 Basler Kunstverein Sammlung